From Balla to Chagall: a splendid selection of lots at auction on May 28th 2020
The catalogue includes works by Dorazio, Boetti Turcato, Fontana, Maria Lai, Arman, César and Matta. Finarte is maintaining its auctions calendar, and on May 28 our Roman headquarters will host the Modern & Contemporary Art auction as the absolute protagonist.
12 May 2020
PIERO DORAZIO, Abdera (dettaglio), 1995 - € 20.000 - 30.000
---
Among the illustrious "guests", Giacomo Balla stands out with his preparatory sketch for the central panel of the work Affetti, a triptych dated 1910, currently in the capital's National Gallery of Modern Art. A fundamental painting in Balla's production, especially because of its subject. The Maestro dedicates it to what matters the most in life: "affections", by portraying his wife Elisa and their daughter Luce (the second daughter Elica was not born yet), in a moment of family intimacy.
The painting, oil on cardboard, cm 50×40, estimated € 80,000-100,000, acquired directly from Balla in the '60s, was recently exhibited within the exhibition Balla at Villa Borghese, in the Carlo Bilotti Museum in Rome.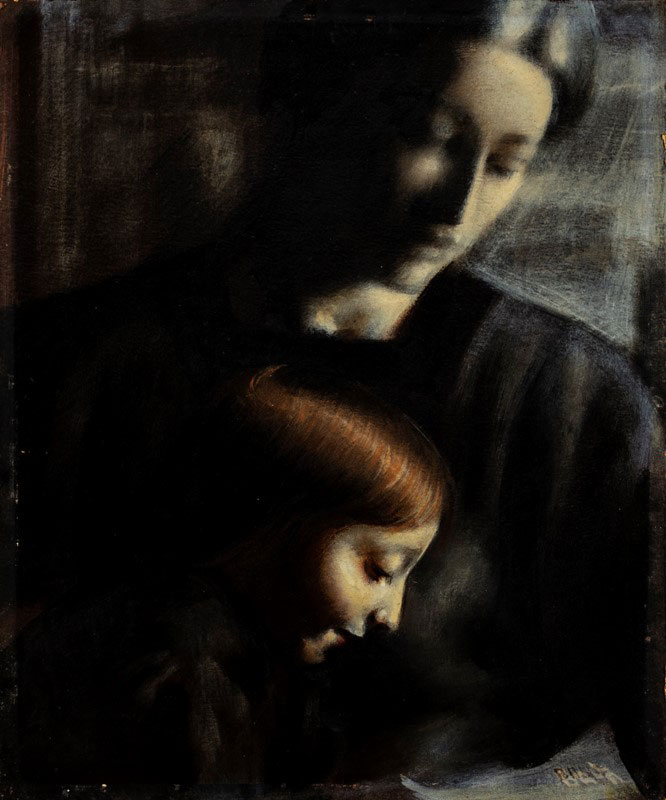 Two works of significant interest and quality by Giorgio de Chirico are also in our sale.
The Bather, painted in the '50s, is a beautiful oil on canvas, cm 50×40, estimated € 70,000-90,000. A beautiful sensual nymph solo of the sensual nymph appearing in the foreground of the Naiadi al Bagno, a composition currently preserved at the la Casa-Museo Giorgio De Chirico in Rome. A true hymn to femininity, a tribute to the symbol of desire.
The second work is a Still life with fruits, oil on cardboard, cm 20×30, painted in 1952, estimated € 30,000-40,000. It demonstrates that, in art, size certainly does not matter, as it is one of the most beautiful Silent Lives ever painted by De Chirico, perfectly balanced both in composition and colour.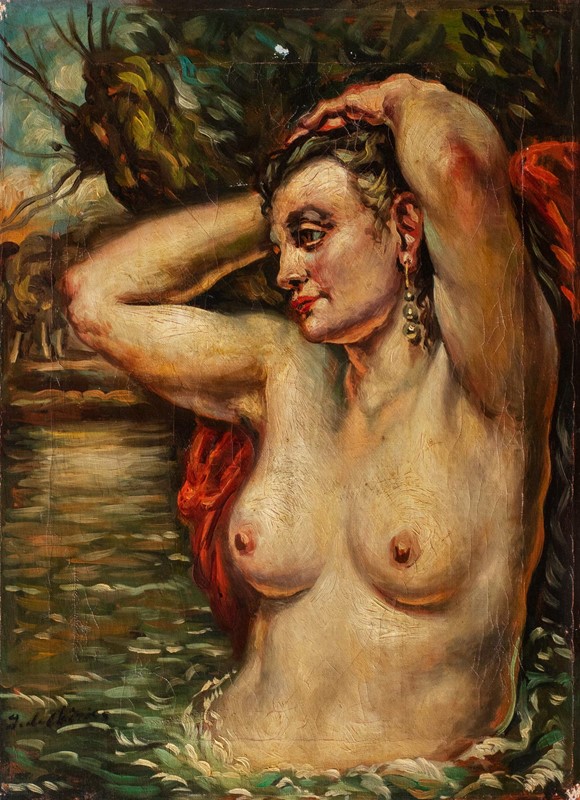 GIORGIO DE CHIRICO Bagnante, 1950 ca - € 70.000 - 100.000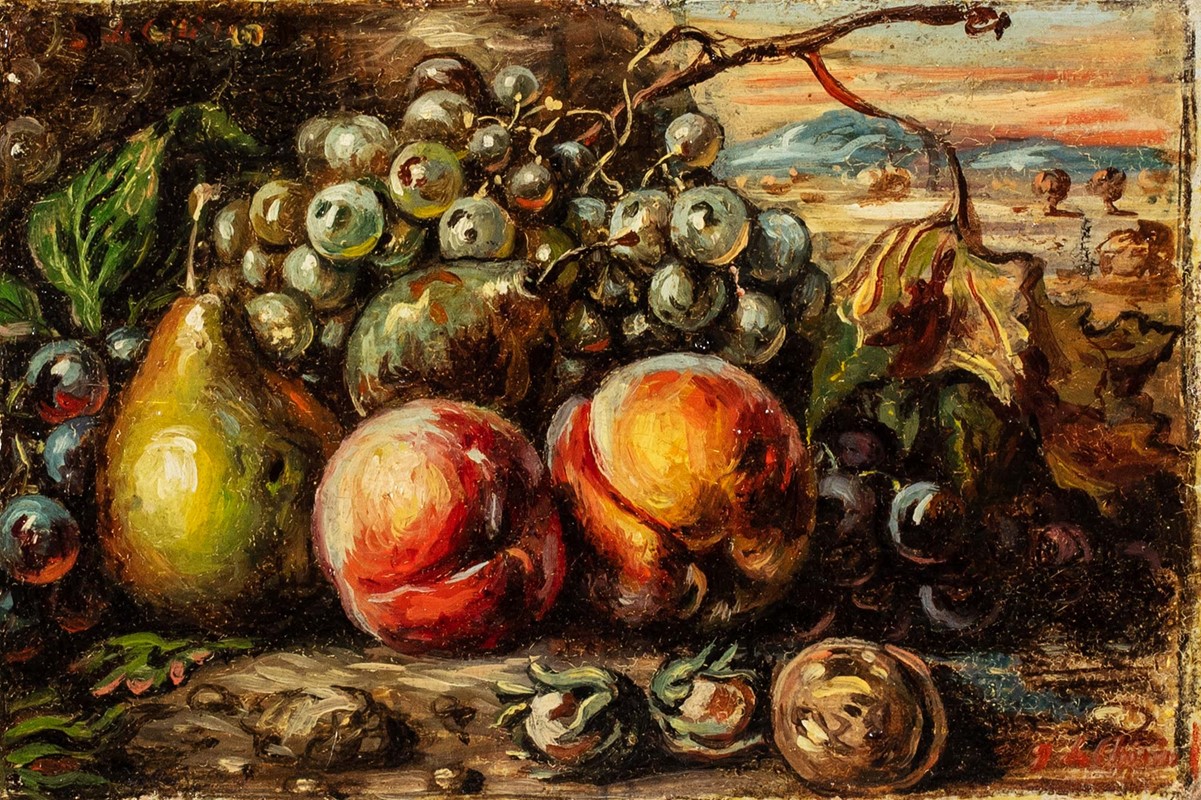 GIORGIO DE CHIRICO Natura morta con frutta (Frutta con pesche, pere e uva bianca), 1952 - € 30.000 - 40.000
The focus of the auction are those artists having made manual practice and craftsmanship a component of their stylistic signature, such as Alighiero Boetti, represented by one of his best-known editorial projects: the book dedicated to the classification of the Thousand Longest Rivers of the world, together with its unmistakable embroidered cover and estimated € 30,000-40,000. The Turin artist is also in the catalogue with an extremely colourful tapestry, Sometimes sun sometimes the moon.
An extremely rare tapestry by Giulio Turcato, Composizione, cm 160×130, was created in the same historical period and estimated 15,000-20,000.
The discourse is still about threading in Maria Lai's Written page, 1982, made with thread sewn on paper, is estimated € 20,000-30,000.
The gentleman collector shouldn't miss Giacomo Balla's early 30's Futurist woven tie, estimated € 5,000-7,000.
Among other Italian masters, Giulio Turcato with a foam lunar surface dated 1973 and estimated € 20,000-30,000.
Piero Dorazio's highly colourful maze named Abdera, 1995, cm 130×160 will also be auctioned at the same price.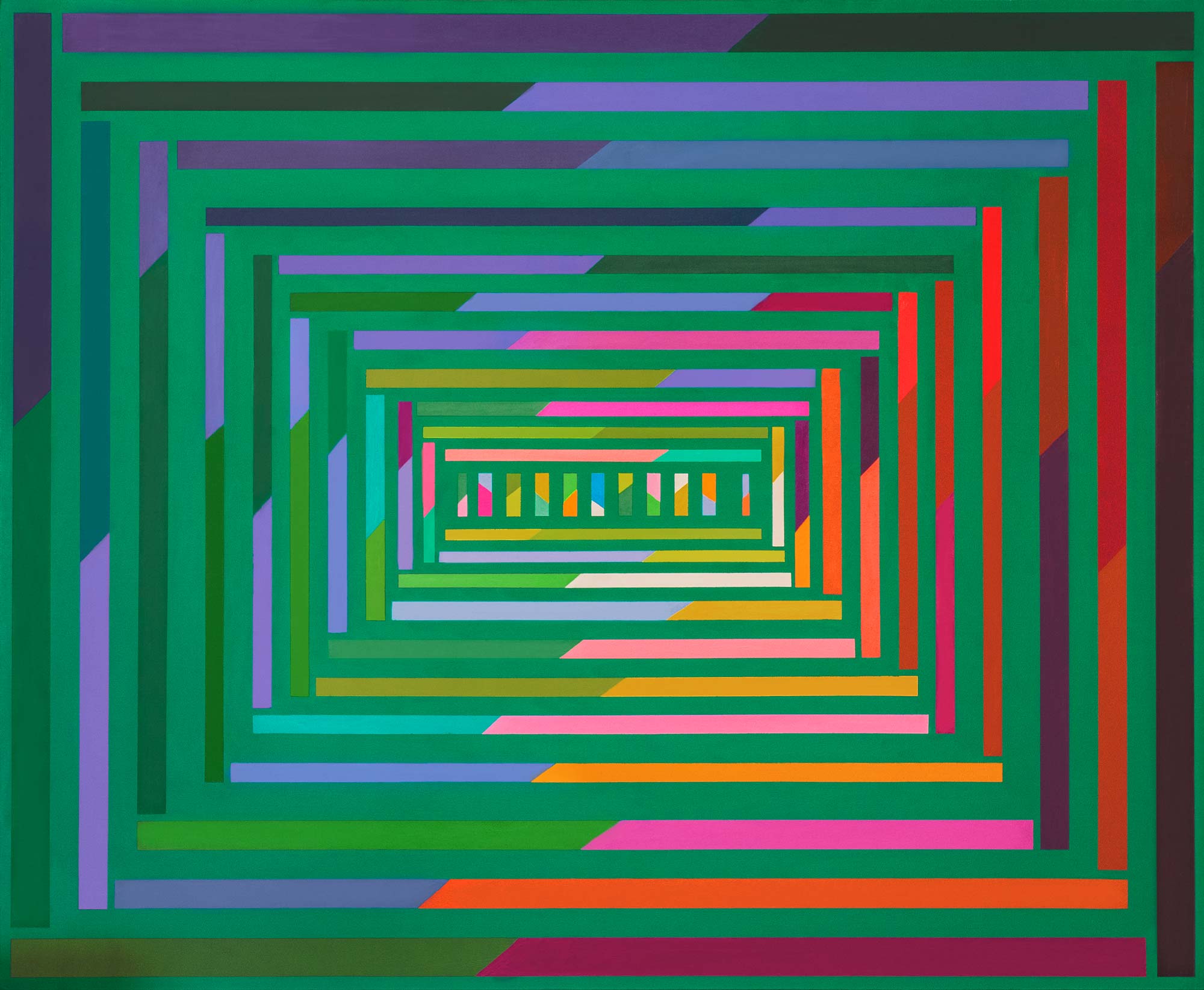 PIERO DORAZIO, Abdera (dettaglio), 1995 - € 20.000 - 30.000
ALIGHIERO BOETTI Classifying the thousand longest rivers in the world, 1978 Stima € 30.000 - 40.000 Registrati all'asta 170 *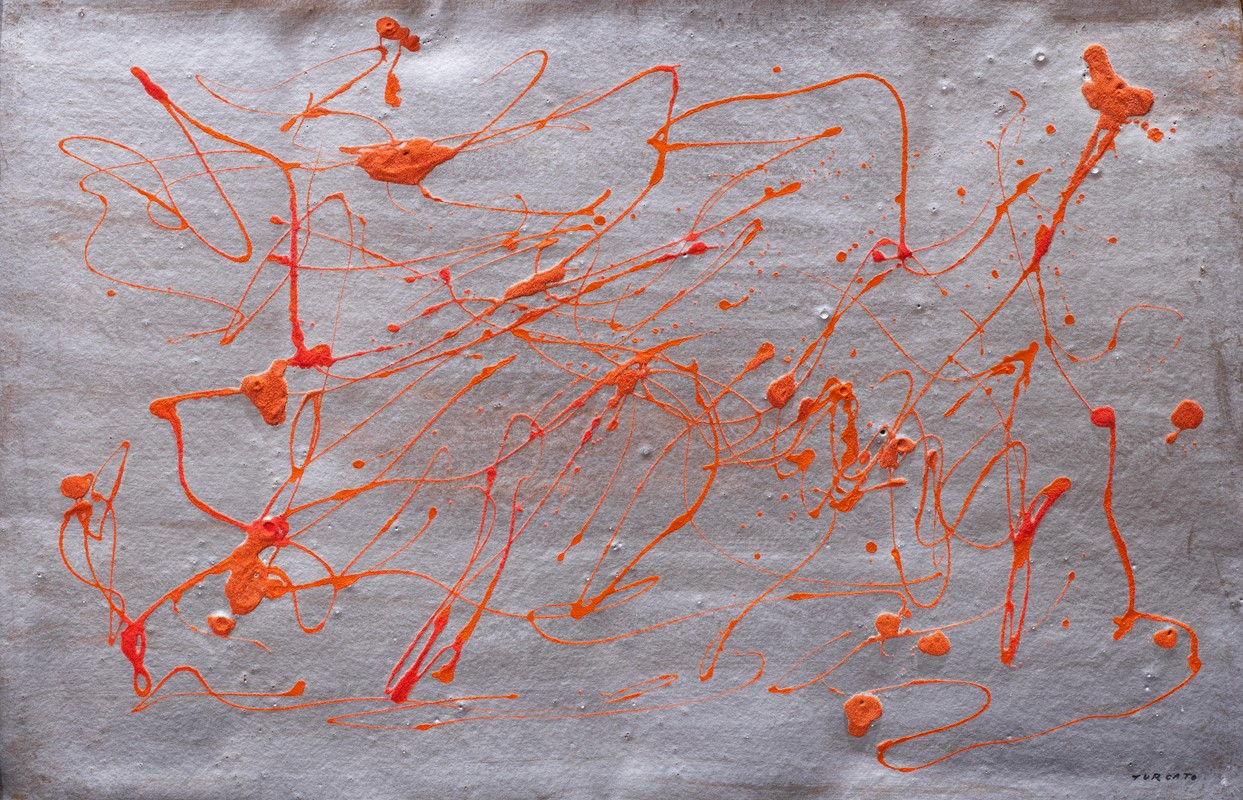 GIULIO TURCATO, Superficie lunare, 1973 - € 20.000 - 30.000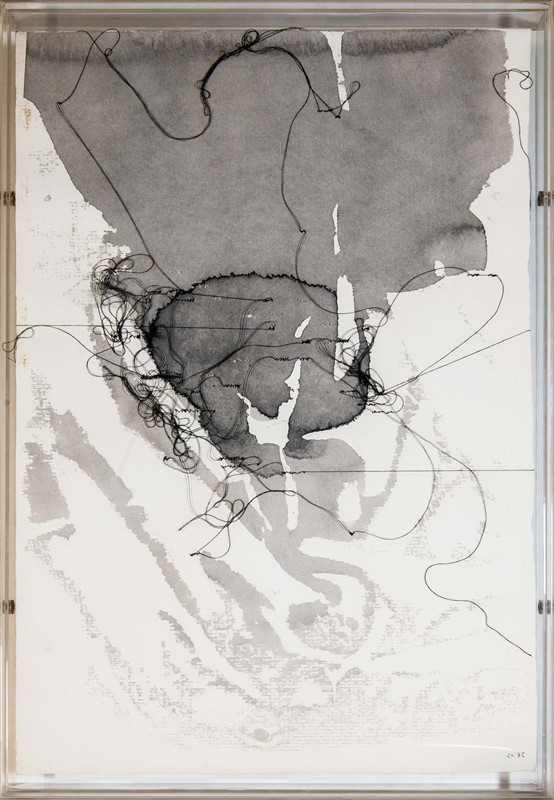 MARIA LAI, Pagina scritta, 1982 - € 20.000 - 30.000

GIACOMO BALLA, Cravatta futurista tessuta, 1930/'32 - € 5.000 - 7.000
Lucio Fontana's iconic sculpture Spatial Concept, Natura, 1967, polished brass bed, 26 cm high, is estimated € 40,000-50,000.
Scaptia, 2008 and Steins, 2009 are two of the unmistakable Velasco Vitali's dogs made of iron and sheet metal, estimated € 6,000-8,000.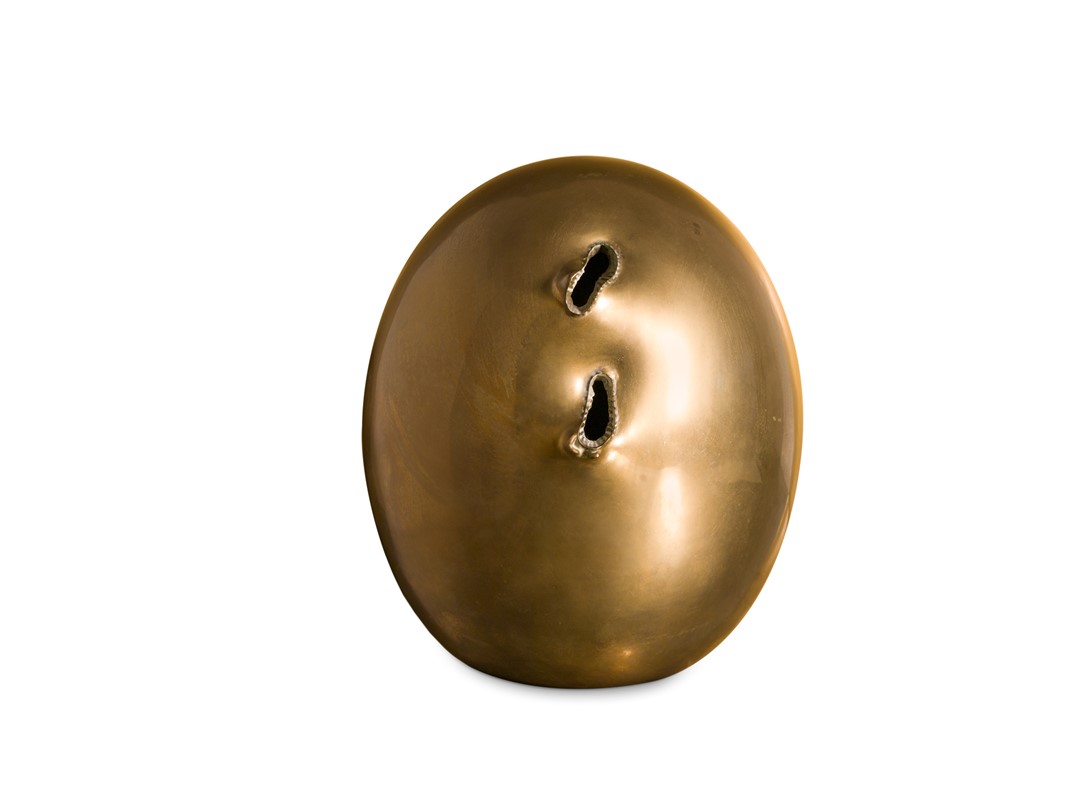 LUCIO FONTANA, Concetto Spaziale, Natura, 1967 - € 40.000 - 60.000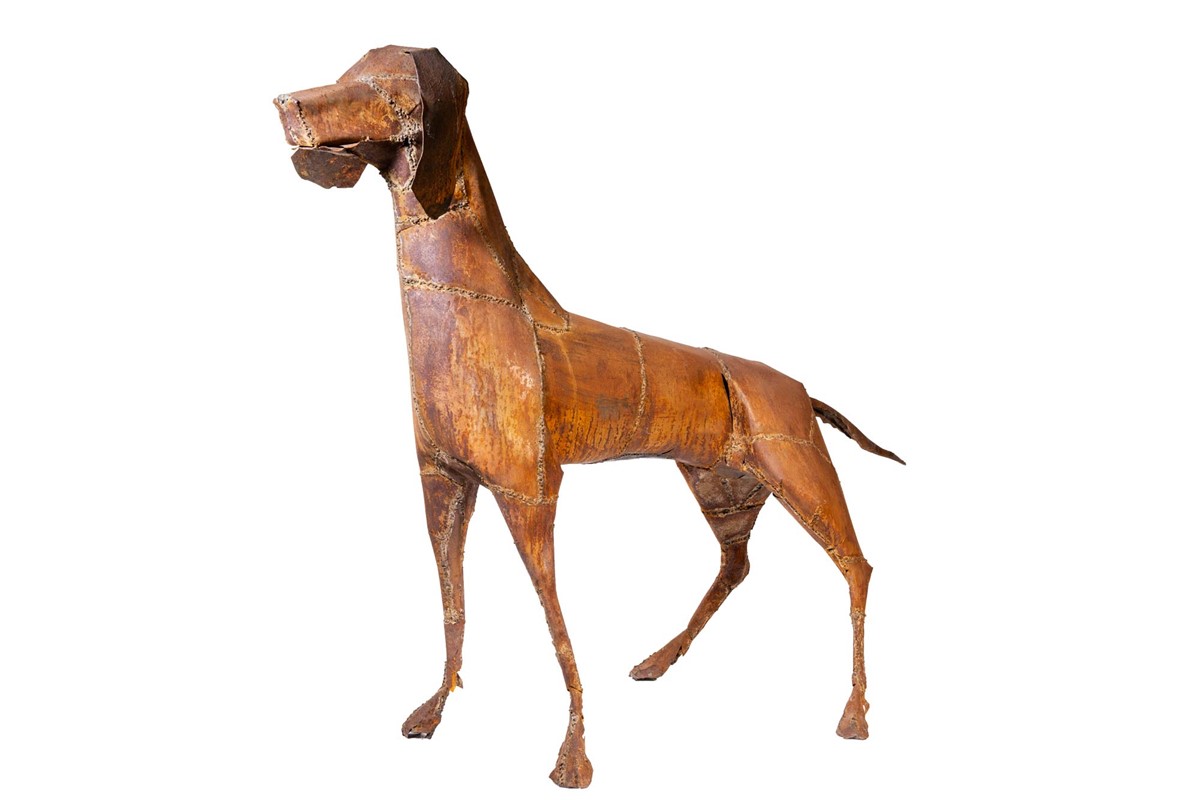 VELASCO VITALI, Scaptia, 2008 - € 6.000 - 8.000
A sale of Italian artists' important works and also a sale of international masters' iconic pieces, as Marc Chagall 1950's Double profile on a blue and green background, a pastel gouache and Indian ink on paper, cm 26 x 18.2. Two beings or one? Regardless, a dream character portrayed with all the delicacy distinguishing the Belarusian artist' style, estimated € 40,000-50,000.
Also, Japanese artist and architect Shusaku Arakawa's study for The Error, graphite and pencil on paper, estimated € 10,000-15,000.
Two of the leading exponents of the Nouveau Réalisme are also at auction: Fernandez Arman and César, the latter with a Compression, 1989, estimated € 8,000-12,000 and a beautiful painting by Roberto Sebastian Matta S'Excluse, 1972, oil on canvas, cm 104 × 97, estimated € 30.000 / 40.000.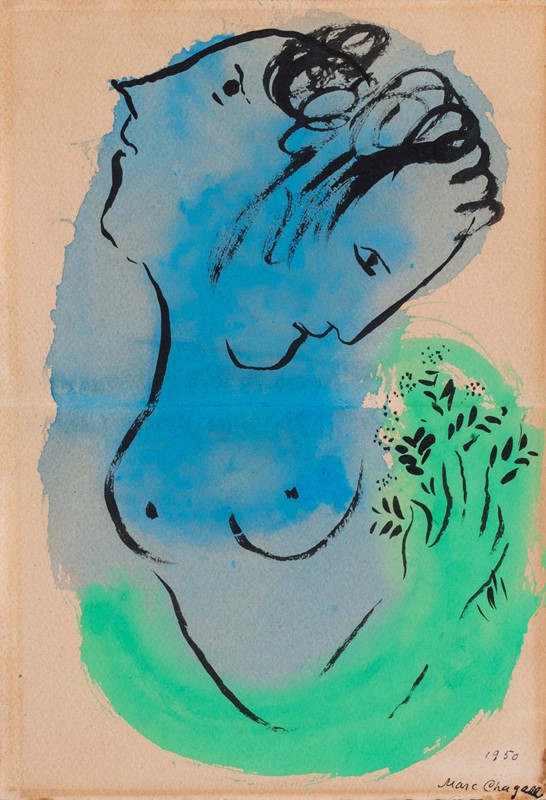 MARC CHAGALL, Doppio profilo su fondo blu e verde, 1950 - € 40.000 - 50.000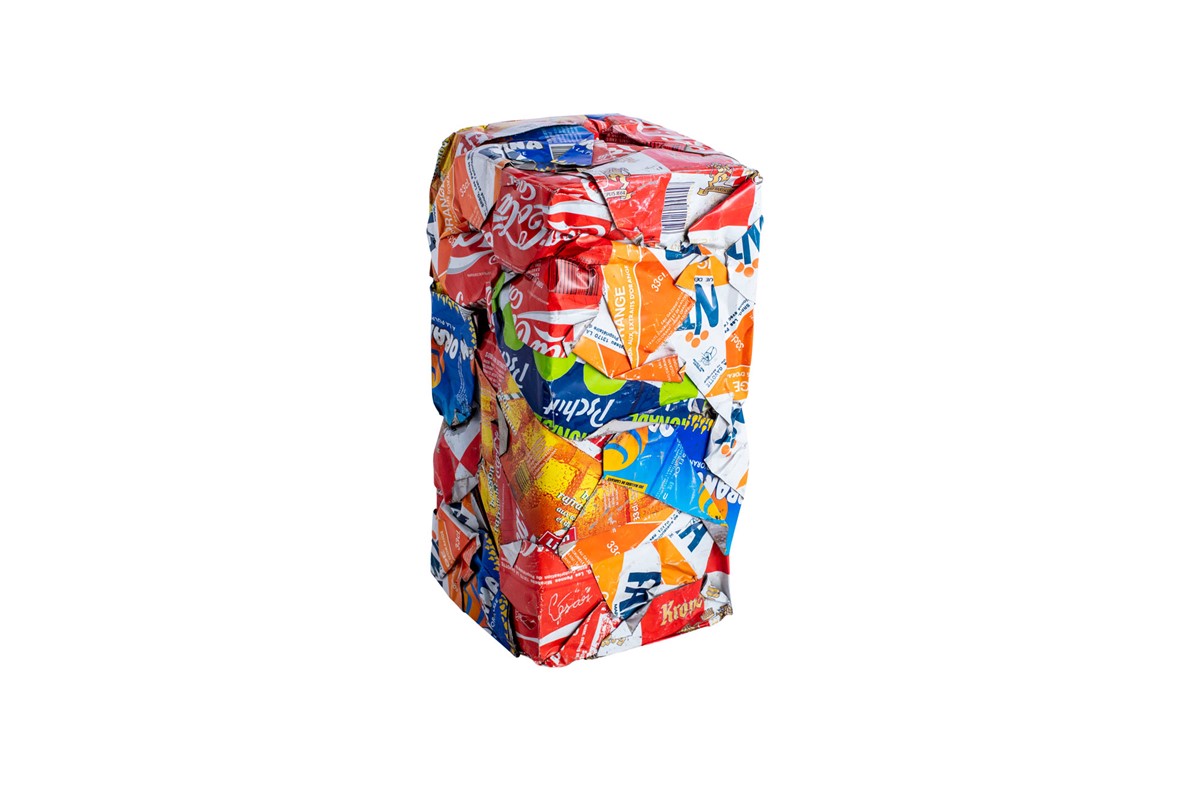 CÉSAR, Compressione, 1989 - € 8.000 - 12.000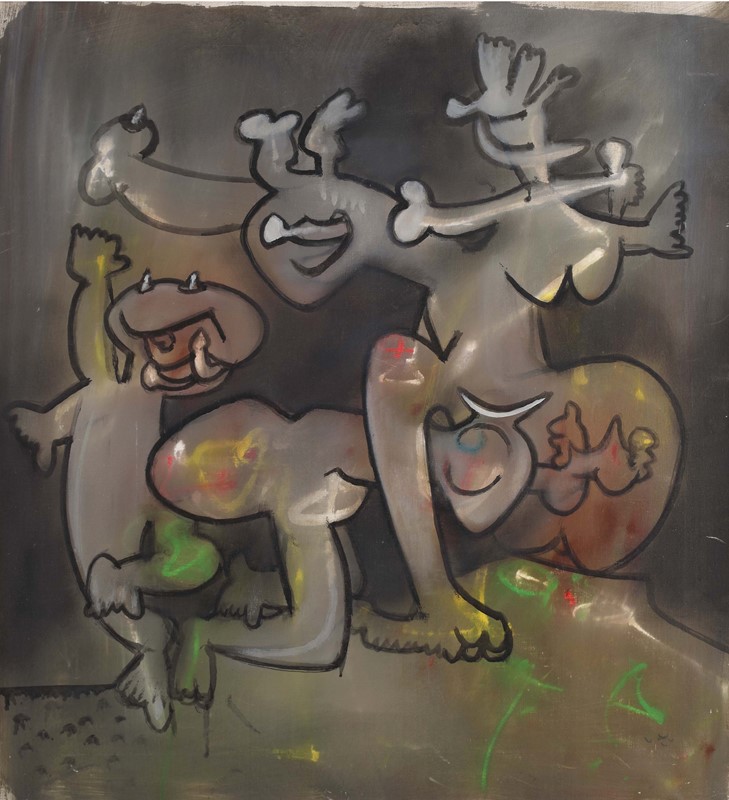 ROBERTO SEBASTIAN MATTA, S'excluse, 1972 - € 30.000 - 40.000
You can visit the exhibition by booking an appointment, otherwise, you can visit our virtual exhibition:
Online Catalogue