SALE
110
Please note that the results listed on this page are inclusive of Finarte Buyer's Premium and exclusive of any applicable taxes and costs, unless otherwise noted.
Saturday 27 Novembre

ROME
Palazzo Odescalchi
Piazza SS. Apostoli, 80
(get direction)


Finarte, after the first sale entirely
dedicated to the master comics Hugo Pratt
, presents
its second Comics auction
in collaboration with
Urania Casa d'Aste
.
That of the
original tables
is a sector that has already conquered collectors from all over the world, involving the most important dealers and reaching staggering figures. In just a few years, this ever-expanding and growing sector has consolidated its importance, finally turning the spotlight on a collectible born in the late 90s and which is now considered in the same way as Pop Art.
Urania
has been the leading Italian auction house in the sector since 2014, when it inaugurated its business right here in Milan and to date, with more than twenty auctions to its credit, it represents the European reference point for this brand new sector.
The auction is powered in collaboration with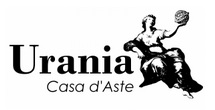 ---
IMPORTANT NOTICE
The Buyer's Premium calculated on the hammer price is 20% up to € 50,000 and 17% over € 50,000.

Sessions
Saturday 27 November 2021, 11:00 am - SESSION 1 (lotti 1-164)
Saturday 27 November 2021, 2:30 pm - SESSION 2 (lotti 165-631)

Exhibition
Thursday 25 and Friday 26 from 10 AM to 6 PM
Entrance will be allowed only to guests with a valid Green Pass
ROME

Palazzo Odescalchi
Piazza SS. Apostoli, 80
(
get direction
)
Conditions of Sale
One of the most expanding art markets on a global level is certainly that of the Original Comic Art, Finarte has decided to open this department in synergy with Urania Casa d'Aste, a leader in the sector for years, organizing international auctions and offering works that satisfy even the most demanding collectors.
The art of comics has already consolidated its importance for some time, shedding light on a collecting born in the late 90s which today is considered in the same way as Pop Art. As before in America and France, this form of art is also in Italy. art has been ennobled thanks to important exhibitions in international museums with growing attention from the mass media, the consequent birth of specialized galleries and dealers have finally contributed to that work of "literacy" which has led to an increasing number of enthusiasts and collectors to approach this world with the eyes of an amateur or investor.
Finarte and Urania, combining their experience and visibility, organize auctions that offer works from all the most sought after sectors: from the great masters of Italian and international comics to the tables of American superheroes, from Disney tables to erotic comics, from the opening illustrations '900 to the original sketches of movie posters.
Contact