Information
Parade knife, 54.5cm tall
Western region of Lake Mai-Ndombe.
Forged iron blade engraved on two sides with a series of vertical lines.Wooden handle decorated with a sheet, twin lead and brass tacks.Traces of "orange peel" rust.Object denotes prestige.Knife in an anthropomorphic shape that depicts a male figure with their hands raised. With niello work, two brass plates representing the eyes have been inserted.Knives of this sort were made by the Lia, Kundu or Nkundu, and Konda people, located in the western Congo to the north of Lake Mai-Ndombe.They are knives that carry prestige, showing their owner's social rank. They appear to have been reserved for the heads of tribes.In the endless production of bladed weapons from the Iron Age to today, metal-workers have produced throughout the Earth, this solution of a metal artefact that depicts a human figure is an idea that only the genius of African artists has developed.

Literature
ELSEN JAN & AUTORI VARI, Beauté Fatale: Armes d'Afrique Centrale, Crédit Communal, Bruxelles 1992, pag.133 (292);
GOSSEAU CHRISTIAN, Tribal arms monographs: Le couteau d'exécution et ses dérivés, Vol. I, N° 2, partie II, Bruxelles 1997, pag. 60 (527);
SOTHEBY'S, Art Africain et Océanien, Paris asta del 5 Maggio 2003, lotto 40 (472);
SOTHEBY'S, Arts of Africa, Oceania &The Americas, New York asta del 15 Maggio 2003, lotto 78 (461);
SOTHEBY'S, Collection Marceau Riviére, Paris, asta del 18 e 19 giugno 2019, lotto 230 (1047)
More
Lots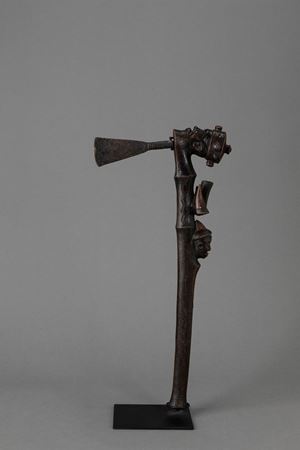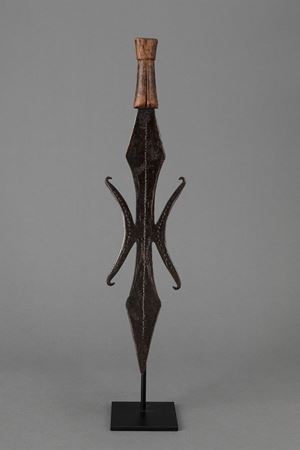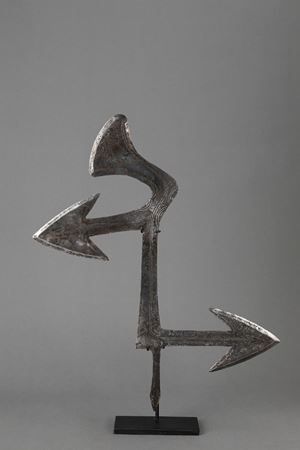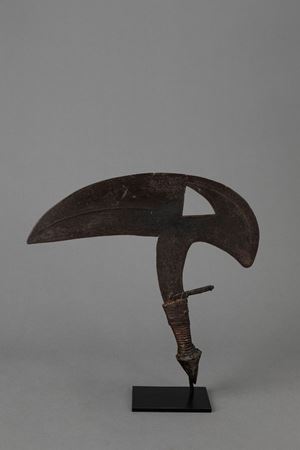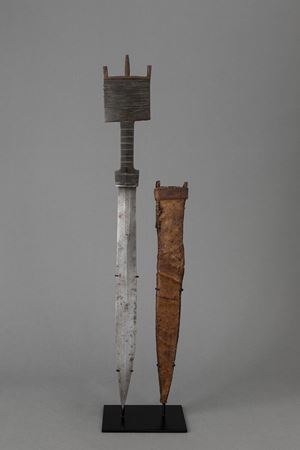 View more lots