144
Libro d'artista - Roth , Dieter
(Hannover 1930 - Basilea 1998)
Gesammelte Werke Band 1 / Collected Works Volume 1 - 2 Bilderbucher - Versionen der im Forlag Ed Reykjavik 1957 erschienenen Bucher / 2 Picture Books - Versions of the books published by Forlag Ed Reykjavik 1957Stuttgart - London - Reykiavik, Edition Hansjörg Mayer, 1976, 23, 5x26.5x4 cm.
The price includes buyer's premium
Information
Cardboard box, a reproduction in black and white and titles in black on a green background on the plate and on the back of the box.

Literature
Bibliography: Dirk Dobke - Thomas Kellen, Dieter Roth, Books & Multiples, Catalog Raisonne, Hamburg - London, Edition Hansjörg Mayer, 2004: p. 147; Andrea Joostens - Petra Roettig, Kunstlerbucher / Artists 'books. Die Sammlung / The Collection, Hamburg, Hamburger Kunsthalle, 2018: pp. 112-113; Anne Moeglin Delcroix, "Esthétique du livre d'artiste. An introduction à l'art contemporain ", Paris, Le Mot et Le Reste / Bibliothèque Nationale de France, 2011: pag. 19
Specialist Notes
Work published in 1976 as the first volume an ambitious necklace designed by the publisher Hansjorg Mayer who intended to reprint all the artist books by Dieter Roth, The box contains a sheet of 23x23 cm printed in black and white with the frontispiece and the imprint and two artist books that reproduce facsimile the first two Roth projects made by Reykjavik in the 1950s (1954-1957). The first volume, entitled "Kinderbuch", is bound with a spiral and consists of twenty eight unnumbered pages illustrated with variously die-cut colored geometric figures. The second, entitled "Bilderbuch" consists of a double ring cardboard container and 23 pages in white cardboard and colored acetate sheets perforated for archiving and variously die-cut. Print run of 1000 copies. Original edition.
More
Lots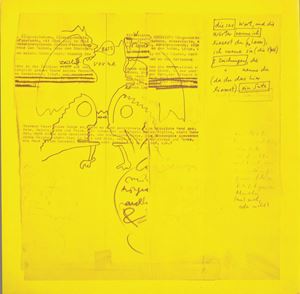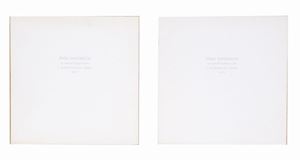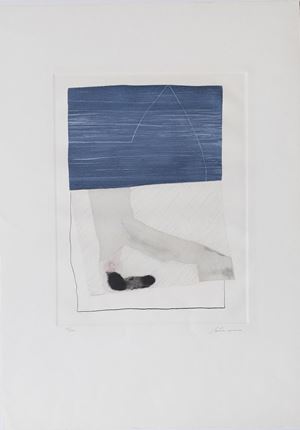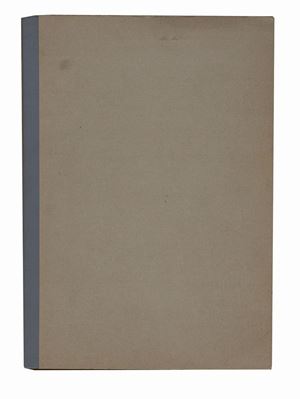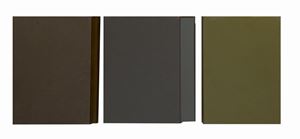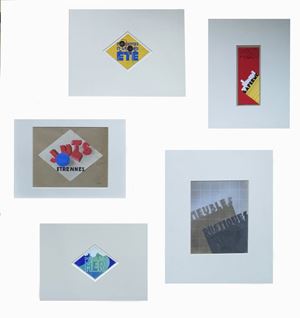 View more lots